About a month back the apple of my eye went kaput. And this happened just 2 days after the warranty ran out. Talk about timing! So while I was coping with this the one thought recurrent in my mind was, 'Nokia! My Nokia device went phut?'
Oh didn't I mention which model? A Lumia 920. Absolute crunchy,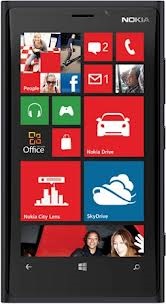 juicy apple of my eye, left-right immaterial.
Let me first shed wholesome light on what exactly went wrong. The night of Jan 23 instant, I played my customary game of Wordament before dropping off into my customary dreamless. If you haven't yet cottoned on to this game, by the way, you'd better rectify this grave oversight pronto, even forsaking breakfast for this is hot, just what the doctor ordered to amuse, improve and instruct us mortals. Describing it would be a severe digression but maybe I'll oblige you, gentle reader, later on but now, let's be sternly focused on my Lumia 920 saga.
So then, I played my customary game and popped off having safely parked the precious phone on the bedside table, away from any possible accident that could befall it. Trusted lieutenants vouch for the fact that Lumia 920, black, lay intact through the rest of the night. The following morning, having slipped outside of the refreshing brew, bolstered by a few of the crunchy-crumbly and taken a gander at the broadsheet informing all of the happenings in the wide world, I picked said Lumia 920 up and decided to catch up on the mails. Like all seasoned Lumians, I double-tapped the screen to awaken the sleeping beauty. I was greeted not by the usual crisp display but by vertical white lines packed 19.9 to the dozen, causing a complete lack of any intelligible legibility of any hue. To say I was aghast would be accurate but also quite inadequate.
As all users know the world over, restarting the afflicted device is the normally accepted method to set most problems right in Windowsia. Back in the hoary days of MS-DOS one Ctrl-Alt-Del-ed suavely, with panache, causing awe to strike the eyes of the uninitiated and murmurs of admiration rend the air but in these romance-less days, this is commonplace. I restarted. And Lumia responded with the very same vertical lines instead of PureBlack striking admiration. Remembering the kindly advice of a tech centre techie, I pressed soft-boot into service. Now this business is almost identical to the Ctrl-Alt-Del spread-fingers finger stretching: you need to simultaneously press the Volume rocker down button, the Power button and the Camera button—which Nokia, in a masterstroke of design, have placed on the same side, thus making it an act that doesn't necessarily defy Physics; you may bite your lip as you manoeuvre your hitherto untested fingers but you will be able to accomplish what you've set out to do (later on discovery kind whittled down this nostalgic comparison: you just need to press the volume down and power buttons together, the third one has been given the short shrift). The phone gave the expected shiver and the screen brightened… but ditto results. This is where the plaintive cry of "Et tu, Nokia?" made an insistent comeback.
How could, I wailed in silence, Nokia build devices that malfunctioned? And so soon? And when so gently tended? And when so carefully handled? Nokia? There was nothing else to do but call their Service Centre. The gentle soul at the other end could tell me nothing beyond what I hadn't already tried: to wit, press the volume-power-camera keys simultaneously to urge a soft boot. Which produced the exact same result it had when I had done it under my own steam. Then? Gentle Soul urged me to visit a Nokia Care Centre since there wasn't anything else he could advise remotely.
I knew the IMEI number was needed for this and that it was available:
on the sticker stuck on the box in which the a-o-m-e had arrived, or,

printed on the invoice, or,

and could be seen on the screen by pressing *#06#, or,

printed somewhere on the phone—though not on the outside
Neither a nor b could be found—am sure you've experienced this umpteen times yourself, gentle reader. You'd seldom find something you need when you need it. There's a law somewhere in this regard just that I can't put my finger on it right now. Option c was obviously ruled out. Now, d was the only one left. Stop me if you're familiar with Lumia 920 but this wonder has no removable back nor battery or a memory card slot. There's just one tiny slot which is pushed with a pin to slide a tray out where you park the micro SIM. No IMEI visible anywhere.
I'm sure you've noticed that your child—if you're in that category, that is—probably has better grip on electronic gadgets. An emergency call to my son yielded a snort and a Youtube link that showed the sleight of hand required to coax the IMEI number out from beneath the SIM tray. You need to ferret with the pin on one side to prompt another slimmer tray to slide out. Of course you'd need better eyes than mine to read the damn number but yield its secret it did. I was armed.
The closest Care Centre is barely 5 kms from my home but the visit there proved to be an unmitigated, yes you guessed it, disaster. The wife and I walked in. The initial chappie at the door sort of corrals the walk-in, thrusting a slip of paper to be filled-in that needed to only exclude my DoB and early childhood. The filled-in slip led me to, for want of a more apt word, the level one advisor. He greeted me courteously enough and proceeded to give my a-o-m-e a thorough once-over, squinting, peering, turning it over and over and proceeded to lay the blame squarely at my door.
"You must have dropped it, sir," he intoned lugubriously.
Met with hot denial.
"Then something must have dropped on it, sir," he countered.
Met with hotter denial.
"Something must have happened to it sir, that's why the display is blown."
"Something must have happened but isn't it your job to tell me what could indeed have happened?"
He did some more turning over and over. Then, without going into the whys and the wheretofores, he pronounced, "This is not covered under warranty so you will need to pay for it."
Now, follow me like a hungry leopard here. This stocky gent had not bothered to check the device IMEI, warranty coverage, nothing. His pronouncement was just like that! And in my mind I 'knew' (the quote marks are justified) the warranty period was over.
With a prescient foreboding, I asked, "And that'd be how much?"
A casual toss of a look at a crony seated behind in the 'workshop' and an inaudible murmur, the advisor turned back and said, "11,000 to fix this."
To cut the rest of the encounter short, the visit was a disaster. Next, I went to another Care Centre in Gurgaon, a cheery 25 kms trip. Perhaps the distance travelled made things better… these guys turned out to be more what I'd expect from Nokia. The same slip needed to be filled-in but here the advisor at the counter first checked the device thoroughly, quickly tickled the hidden slimmer tray to give up the IMEI, input that in his computer and up sprang the phone details. Wonder of wonder, my warranty was valid till mid-Feb!
The men in white lab coats—only not—reported no visible physical damage which corroborated my assertion that no outrage had befallen Lumia. The advisor then dolefully informed that they were however unable to fix the phone in-house and that they'd need to send it Nokia's workshop for R & R, preceded by thorough diagnosis. A few formalities and a signed receipt later, I parted tearfully from the a-o-m-e, promised a reunion in 10 days' time.
27 days have passed instead with said reunion postponed at each telephonic interaction with Care Centre personnel by '5 working days'. The 2nd interaction revealed that my Lumia, the a-o-m-e, has developed an affliction that has eluded all attempts by skilled lab-coats at detection. I have been promised I'd be given a replacement set instead… the original apple of my eye will not come back to me… Let's see what transpires.
Postscript: You may wonder what phone is standing by me in these testing times—for which 'modern' man can survive the daily grind without a smartphone to see him through—perhaps? My other a-o-m-e, my trusted HTC 7 Mozart the Lionheart… 3+ years and going strong.
Post-postscript: Nokia Care Centre failed its own committed delivery date of Feb 24. But instead of a '5 working days' horizon I'm being given 'let's see tomorrow…'
Post-postscript follow-up: Finally… finally the Care bears called up on Feb 26 to announce the arrival of the a-o-m-e… that I collected on the stormy
afternoon of Feb 28. You may use your dark glasses when checking out my replacement a-o-m-e on the right here!
I end my first part of my mobiles saga here and promise to regale you with stories of all the intervening sets in a week or ten days' time. (Psst! Gives me fodder for another upload! Whew! Writers labours, I tell you!)
I thought it might be an idea whose time had come. After all, in a few weeks' time it would be a year that I wrote something here. Last time I lamented the then much-delayed upload with a 'patchwork quilt of reasons…' but this time I cannot fathom what to come up with so will let it be. And brazen in out, what do you say? The idea, you say? Well, just put something here, that's it really.
It is always a struggle to decide what to write about in this occasional blog. Politics? There's already too much of it available everywhere. Sports? What did you say? Eh? Ah, which sport is it? Quite. I get you. Cricket… seems we need to get back to kindergarten for the basics. Hockey? Well… let's see. We might be able to cook something up at the Olympics. Football? Next. Tennis? As long as it is doubles we might have something to say and there are already far more qualified writers around for that. Badminton then? You get the drift? Then? Travels? Hmm… a likely candidate and one that I will salt away for another piece (as we writers refer to it, you know, casually, with a flick of the hand). Movies? As above, there are many reviewers dissecting them in all kinds of media. And so on and so forth… So, for this time, I thought of presenting a list of situations/ things/ happenings/ (type of) people for you to consider how you would react to them were they to happen to/ around you. So, what would you do when you find…
·
…people speaking from both sides of the mouth? (Naturally, politicians are excluded
for their mouths come stitched in the middle.)
They are the sort who run with the hare and hunt with the hounds. They will play both sides, sympathise with you—falsely, of course—and happily stab you in the back at first opportunity and the completely amoral ones will do it without compunction right from the front. They're the sort who have drawn out your innermost anxieties, worries, desires and thoughts and then used the precious information to slaughter you, preferably—theirs—in front of others. My take: when you find them out for what they are, run like hell. Away.


·
…that close cousin of the above, the one who is connected to you in some form or
shape but doesn't give a damn? At all. Nothing could be farther from his (or her) mind. The harm that this tribe can cause you is probably beneath his contempt to contemplate. His focus is elsewhere completely and if you happen to get under his wheel, crushed to dust, why, he doesn't even know. Or would care were he to come to know. Avoid. Like the plague. You?
·
…a strident mobile ringing while watching a movie in a theatre? I'd say that that
important man—or woman—has no business indulging in such guilty—but commonplace, I hasten to add!—pleasures like watching a movie with such important cannot-wait-a-minute type of business on hand. Perhaps the poor soul keeps forgetting to put the blessed phone on buzzer considering such weighty matters befog his 'mind'. Even worse are of course those gentle souls that pick said ringing phone and proceed to have a loud conversation for endless minutes, the inanity of which drives you cross-eyed but nevertheless manages to confound you from following the keen exchanges on the screen. Do you feel forgiving?
·
…you're sincerely following the lane at the traffic light and another car goes past you sneakily, driving right in the incoming lane? And ends up blocking the turning altogether? Actually, there're so many doing this that it is quite expected. But never, NEVER something you wouldn't mind, EVER. Personally, I rejoice if
there're some police chappies beyond the crossing and these unmentionables are nabbed. Hold on, they
are
nabbed. Like you say, they probably get away by shoving some money down the stoppers' throats but at least they are. Not always or often or harshly enough to make this an unprofitable risk, true. And my secret desire? They crash badly upon turning and ruin their vehicles. A broken leg or two wouldn't be bad either. What do you say?
·
…vehicles jumping lights with impunity—and getting away with it— talking about
traffic rules? And why on earth do cyclists believe traffic rules are not meant for them? Or that two wheelers—the motorized variety I mean—are especially exempt? Watch them whizz past at turnings blithely riding in the incoming—the wrong—lane. And yes, you're right, even the cars do it.
Watch the fellow alongside living dangerously. How do you feel?
·
…you yourself have broken the law and now need to face up to the awful majesty of it? What's the first thought that flashes through your mind? Bluster? Bribe? Whine? Own up and take consequences? In my case, I broke traffic rules twice and being unable to bluster or whine and shying from bribing, I found owning up and offering to take it on the chin worked like a charm. I was let go both times.



·
…you are being patronized by someone? You know, being talked down to, being
condescended to… and such like? It's suffocating to be sure. But what would you do, really? Stand on a stair and talk down too? Or…? I'm currently practicing a little-known meditation technique from the Sukhbaatar province of Mongolia… which enables me to sit back and enjoy the event.
And that's it, ladies and gentlemen. Honour me by putting down your reactions, thoughts and comments. See you in… the distant future? Or maybe not… Sbohem!